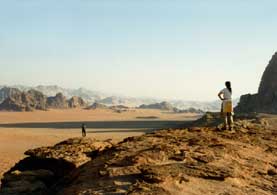 Desert Discoveries
Gives travellers the unique opportunity to explore areas where no western tourists have ever been, whilst learning first-hand about the extensive history of Jordan and the region. 
By invitation of the Hashemite Royal Court and His Excellency the Minister of Tourism and Antiquities, unexplored areas of the Jordanian Desert have been opened exclusively to Desert Discoveries Limited, an independent UK-based travel company, to take small groups of people to explore the desert by day and sleep under the stars by night.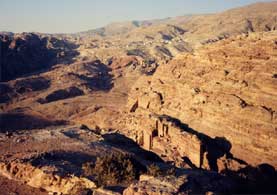 Travelling is in air-conditioned, 4-wheel drive vehicles, which are necessary to cope with the heat and terrain, such as deep sand drifts, undulating dunes, and basalt flints and boulders.
Not all of the nights on tour are spent in the open desert, some are spent in luxury hotels in Amman and Petra.
Desert Discoveries, based in London, is proud to be the only travel company able to offer this package, and actively works to promote responsible tourism in Jordan.
NEW: Jordan and Saudi Arabia
We are currently negotiating for permissions - please note the plural - for a unique expedition. Following a loop of the ancient trade routes, we propose to travel south from Petra to the great Saudi Arabian necropolis of Meda'in Saleh; from there to an unrecorded Nabataean site in the canyons of the Wadi Qaraqir; on north-west to the settlement and tombs of Al Bad, returning to Jordan along the Red Sea coast. This is very much an expedition, not a tour. We can take no more than 9 people, first-come-first-served; and given the experimental nature of the expedition it will be carried out on a cost-share basis, with an estimated cost per participant of £2,500 excluding flights for 11 days on the ground.
We reserve the right to assign places on this expedition according to the preparedness of the individual for deep desert travel within the Kingdoms of Jordan and Saudi Arabia. If you are interested, contact us and we will keep you posted.
Home | Introduction | About Jordan | Who We Are | Itinerary | What You Need To Know
Contact Us | Djibouti expeditions | Jordan Gallery | Djibouti Gallery