Djibouti
Djibouti is arguably the most stable country in the Horn of Africa, and is currently playing host to a large contingent of American troops based at Camp Lemonier, as well as a regiment of the French Foreign Legion. Somehow these visitors only add to the sense of romance that permeates the extraordinary melting-pot that is Djibouti, with its shifting population of fine-boned Danakil warriors, Somali refugees, Yemeni merchants and Francophone adventurers of all kinds. Tintin fans should note that the boy hero nearly made it to Djibouti, but not quite. It is a very Tintinesque sort of place.

More seriously, Thesiger fans should note that the marvellous "shadow-filled gorge" down to Lake Assal that he wrote about in his Danakil Diary (see Danakil ll, May 13th-14th) is still as wild and untouched as when he visited it in 1934. So, indeed, is most of the country.

It is not possible, however, to hire a car and drive around Djibouti except in very limited areas. The lack of roads, and the utter waterless desolation of much of the landscape, makes this a most unwise proposition. But the rewards of travelling in Djibouti are tremendous. Ras Siyyan, a small volcanic promontory on the western side of the Bab el Mandeb ("gate of tears") across from Yemen, is a marvellous site scattered with as-yet undated sherds, with turtles nesting in the bays and white sands and mangroves flanking the red volcanic mass of the headland. Further inland, there is the mountainous, primeval Foret de Day, with its troops of baboons; the lava bubbles of Mount Ardoukoba, which last erupted in the 1970s; the great Rift Valley embracing the salt flats of Lake Assal, and the boiling sulphurous pools and fumeroles of Lake Abbe. Djibouti is also - please note - home to the hottest temperatures recorded on earth, which occur along the Danakil Depression. Only a lunatic would visit Djibouti for fun in July, but only the most flint-hearted of travellers would fail to be enthused by Djibouti in November, December or January.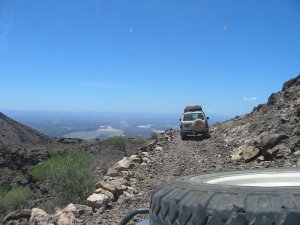 There is diving tourism currently operating in Djibouti; a few lucky souls escape from their live-aboards for the odd day's excursion to Tadjourah, the country's second-largest city and home to the old Sultanate, or to Lake Abbe. For long-range, deep desert travel outside these areas, one needs good local contacts to supply a small escort/camping staff, and first-class assistance in providing spot-on navigation and vehicle maintenance. In the volcanic landscapes of Djibouti, littered with boulders the size of melons and flints as sharp as - well, flints - tyre changes or vehicle breakdowns are a daily occurrence. There is nothing that cannot be dealt with, but we have to be very well-supplied and well-prepared. This is a physically more demanding option than Jordan, but then readers will have guessed that already. There are hotels in Djibouti city, and two passable ones in Tadjourah, but outside these towns there is nothing that would pass for a hotel in western terms, so all nights must be spent in the open, or in a thatched hut with, of course, no plumbing.

Our French partner in Djibouti, without whom we could not operate comfortably there, is Bruno Pardigon, an English-speaking Frenchman who has a deep knowledge of the country and is a noted local employer. He specialises in diving trips, but is perfectly capable of supplying vehicles, manpower and emergency assistance to any part of the country.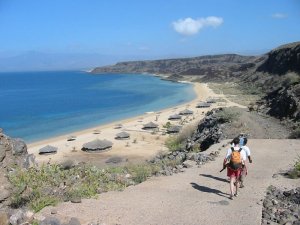 This is a new destination for Desert Discoveries and one for which we are reluctant to set an itinerary without a knowledge of the clients' sphere of interests and level of fitness. Of course we can set up a fixed itinerary and carry clients along; but given the extraordinary opportunities - and challenges - that Djibouti presents, we would suggest that interested parties should consult the maps, browse our gallery and contact us for further information.









Home | Introduction | About Jordan | Who We Are | Itinerary | What You Need To Know
Contact Us | Djibouti expeditions | Jordan Gallery | Djibouti Gallery